THIS PAGE WILL SHOW THE GUEST ARTISTS FOR 2017 to give some idea of what you can expect in 2018
-------------------------------------------------------
GUEST ARTISTS 2017
Orly Krasner from USA
Mike Courthold
Geoff Cubitt
Geof Owen
3D
Deo Volente
Orion's Ring
Paul Hutchinson & Fiona Barrow
Robert Moir
Rosemary Hunt
Vertical Expression
Jen Morgan
Folkus Pocus
Maggie Kaye
Orly Krasner
Orly discovered English Country Dancing while finishing her Ph.D. dissertation on a totally unrelated musical topic. Intrigued by
the idea of music made visible, Orly took up choreography, and then apprnticed as a dance teacher under Fried de Metz Herman, Beverly Francis, Gene Murrow, and Paul Ross. Orly now teaches regularly at Country Dancers of Westchester and Country Dance*New York, and has appeared as a guest teacher for dances, festivals, and special events throughout the USA, Canada, England, and Japan. Orly also dabbles in baroque dance but remains a committed ECD dance gypsy! In her day job, she is a professor of musicology at City College of New York.
Orly will also be doing a workshop on Charles Bolton, who is much missed. He inspired and mentored her in her early work on choreographing dances, She will also remember Fried de Metz Herman, with Fried's 90th anniversary falling in 2017.
3D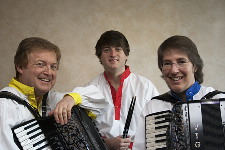 3D is Chris, Julie and Nick Dewhurst, our very own local Lichfield band!. They have a busy schedule playing for English and Scottish dance events and festivals up and down the country. Their roots in folk music go back many years, but they have played as a family band since 1997.
The band is equally at home playing romping reels and sensitive slow airs, strict Scottish and purest Playford (well, as pure as you can get with two accordions, drum kit and trumpet!) They enjoy bringing the music to life with their own unique interpretations, drawing on many different musical styles, but their aim is always to fit the tune perfectly to the dance, and to provide that essential 'lift' to help keep dancers on their toes. They also have many CDs – ask them to show you – the latest is Razamatazz – pure joy!
The Dewhursts have been focusing on the music of Pat Shaw in this his centenary year, and Chris will be leading a workshop on Shaw's music, as well as playing for dancing.
Vertical Expression
For the last ten years Vertical Expression have been delighting dancers at folk festivals and contra dance series around the UK and as far afield as Paris Denmark and the USA. Probably the UK's most high energy contra dance band, their music combines American,Canadian, Irish, Bluegrass, Ragtime, English
ceilidh, Appalachian and Gypsy jazz influences. Their driving double bass and guitar foundation, layered with rhythmic fiddle and melodeon tunes plus a spot of foot percussion, makes them one of the most danceable bands around.
Mike Courthold
Mike has extensive folk festival experience having been calling a wide spectrum of dances and events for 34 years. Through energetic English Ceilidhs and American Contras to barn dances you are sure to have come across him at some point. He has entertained at Sidmouth, Chippenham, Lichfield, Eastbourne,
IVDVF and Broadstairs to name but a few. In 2004 He became the Dance Director at Chippenham Folk Festival.
He was responsible for resurrecting the Callers' Workshop & Showcase Dance for Sidmouth and has introduced similar workshops at Chippenham. He began folk dancing whilst at University in 1970. Folk is very much in the family. He met his wife Rita through dancing and both sons, Chris and Adam dance too. In fact Adam also helps with the Chippenham Folk Festival as its webmaster.

Jen Morgan
A lively Midlands-based caller of ceilidh, contra and Playford dances to audiences of all ages and abilities, Jen's love of folk dancing began since before she can remember, with the yearly trips to the Old Round Party in Cambridge. This planted the
seed for her enthusiasm for Playford dancing. At university, she joined Sheffield Ceilidhsoc and began dancing in earnest, whilst taking an active role in running the society and helping to organise the Inter Varsity Folk Dance Festival 2008. In 2009 she and husband Bob Morgan (also a caller) moved to Loughborough and discovered contras and squares at Loughborough Folk Dance Club. The next year they joined Warwick Folk and became regulars at the Alcester Contra. In 2013 she started Coventry Zesty Playford, part of a movement to dance Playford dances with energy and enthusiasm. She started calling regularly in 2015, with the aim of sharing her love of folk dancing with as many people as possible.
At Lichfield we'll have the opportunity to enjoy both Zesty Playford and contra with her, and there is something extra; she is introducing a Facebook workshop to the Festival. The latter is to help folk dance clubs to set up a Facebook group to publicise themselves to new dancers and to communicate with their members and visitors.
Geoff Cubitt
Geoff is well known as a caller for American Squares and Contra and English
Ceilidh. He has been invited to call at national dance festivals, including Whitby, Chippenham and Sidmouth, and is well respected among his peers. He has considerable experience as a dancer himself, particularly in Appalachian dancing, performing at many festivals. His experience as a dancer stands him in good stead when calling, as his sympathy with those on the floor means that he is helpful to beginners as well as extending the expert dancers.
Geof Owen
Geof was a latecomer to folk dancing when he and his wife were invited to join the local Walsall club in 1991. They found it fitted them like a glove and Geof started calling two years later. He now calls
at most of the clubs in the area regularly as well as further afield, and is deservedly popular. His debut at Lichfield Folk Festival was in 2009 when he called the barn dance and led the public dancing at the cathedral. This was followed by a very successful Tea Dance at the 2011 Festival.
Geof also enjoys writing dances - in fact he has published no less than 9 books to date! So, does he have a favourite style? Yes - particularly impressed by John Chapman, he loves doing singing calls (and he has a lovely voice for them - Ed) but equally he covers the whole range of Playford to modern dances. His workshop this year will focus on dances "Home Grown" to the Midlands area, from such notable callers as the Alexanders, and the Wrights.
Deo Volente
Deo Volenter is an accordion and flute duo based in Nottingham and formed in 2006. Dave and Victoria are experienced folk dance musicians and have
become familiar faces locally as well as being well known on the national dance scene. They have performed at festivals and weekends including Morland, Southam, Casterton, Lichfield, Eastbourne , Chippenham as well as multiple appearances at Lichfield in previous years, with Victoria also calling.
They particularly enjoy playing for Playford and Playford-style dances – the way the beautiful tunes match with the dance moves makes for memorable combinations and magical moments. However, they are also to be found playing for other genres within the repertoire.
Ask them for their CD's- new ones launched this year.
Dave and Victoria are both keen dancers so look out for them on the dance floor when they are not performing!
Orion's Ring
Orion's Ring was originally formed as a family barn dance band over 25 years ago. Though various members of the family have moved on, Genni (daughter) on fiddle and Steve (Dad) on accordion still form the core of the band, with Darren, (Genni's fiance) having recently joined on bodhran. Occasionally they have the benefit of Jacqui on flute, but she can't be with us at Lichfield.
Their repertoire has increased and changed over the years, and they now enjoy playing a very wide range of music, but feel that their best work is in playing for Playford-style English country dances. They have played at several of the major festivals, and are in demand across much of England for their rhythmic and danceable sound. They derive great pleasure from making dancers' feet move to the music! Steve began learning to play piano at the age of 4, but discovered the accordion when he was nine, and has been playing one ever since. Genni also began playing very young, and became involved with playing folk music soon after beginning her violin lessons. In addition to her percussion work, All love their playing, and this is clearly evident in the life they put into the music.
Rosemary Hunt
From rural Dorset we have Rosemary Hunt, a fine teacher of both contemporary and historic English country dance. Co-
editor with her husband Steve of the collection Dances from 1792, Rosemary calls at dance weeks and weekends in the UK (Halsway Manor, Chippenham, Lichfield, Eastbourne), the US, Belgium, and Holland. Rosemary is the resident caller at the Wareham Folk Dance Club and until last year was organizer of Dorset's popular Purbeck weekend. She also choreographs dances, setting many of them to tunes by Steve.
Rosemary's Lichfield workshops may bear the same title as her sessions on other dance weekends, but the dances will be different.
Paul Hutchinson & Fiona Barrow
Paul Hutchinson has had a long musical career, some of the most renowned being with Belshazzar's Feast, amongst whose many TV and radio highlights was a nomination for Best Duo at the BBC Folk Awards in 2010.
Paul has a keen interest and knowledge of 17th & 18th century music which has resulted in appearances at festivals in the UK, Europe and the USA. He has produced many CDs, the latest being jazz fusion music album "Clarion" which has gained 5 star reviews.
When not preforming or recording, Paul is resident accordion tutor at Cecil Sharp House and Halsway Manor, and he is also active in community work, with various local projects including a 17th century music group.
Fiona Barrow is a Bristol based professional violinist who trained classically. She has played for folk dancing for many years, with the duo Bristol players, and with Paul
Hutchinson, appearing at Sidmouth, Broadstairs and Chippenham Folk Festival.
Robert Moir
Robert is a well known figure on the English Country Dance scene as a dancer, caller and choreographer.

Originally from Scotland, he now lives in Gloucestershire, but travels widely to call. He has also called in the USA, Belgium, and the Netherlands. As part of the Pat Shaw Legacy Group he has been engaged in organising and will be taking part in many special events in 2017 commemorating the centenary of Pat Shaw's birth. He has also been encouraging others to do so too. As part of this special role Robert has been invited to Pinewoods in August and Holland for the Christmas Course; both of which long running events Pat attended. We are fortunate to have Robert to run a special Pat Shaw session at Lichfield this year, although that won't be the only type of dances he will cover.
His Saturday night will include dances by friends of Shaw, and those who have followed in his footsteps, with possibly the odd dance by Pat himself.
Maggie Kaye
Maggie grew up with folk dancing – her mother played accordion and was a Scottish dancer. Since the 1990s she has been playing in a variety of bands both for British and International folk dancing. Maggie teaches mainly International folk music and
dancing, but continues to enjoy playing for all sorts of folk dancing. In 2006 she became a member of the Cat's Whiskers Band, playing at Eastbourne and Lichfield Festivals and Halsway Manor, as well as for clubs and barn dances around the Midlands and beyond.
FOLKUS POCUS
Have been playing music together as Folkus Pocus since 2002, although they met a few years earlier at Cardiff University, where we both studied music. They began playing professionally for a series
of dance workshops at Cecil Sharp House in London. They are delighted to be in demand regularly at festivals, weekends, evening dances and other events all over the country. In recent years they have also worked in Belgium, Germany and Holland.
Caroline grew up surrounded by folk music and has played for dancing for many years. In 2003 she won first prize in the London Fiddlers' Convention and her bright, clear sound has won her many fans. Dan's introduction to folk music came through meeting Caroline at university. His style is best described as driving but sensitive - a combination of jazzy improvisations and a more lyrical 'classical' touch - an ideal combination for both folk dance music and teaching music.
Festival Band
Continuing the tradition of many years, there is an opportunity for those who can read music to join the Festival band on Sunday afternoon to help bring this years Festival to its climax. Music will be provided, and a preparatory workshop will be held on Sunday morning for those who would like a chance to run through the programme beforehand. The Festival Band combines all the festival band musicians who are able to gather at the final afternoon session. Would all musicians who wish to play in the band, please contact the band leader Chris Dewhurst – see notes on programme pages.
On Saturday Maggie Kaye is leading the band for the Tea Dance and there is a preparatory session on Saturday for that.