GUEST ARTISTS 2018
Sue Rosen (USA)
Brooke Friendly (USA)
Ian Jones
Victoria Yeomans
Ivan Aitken
Colin Hume
Bruce Rosen & Graham DeZarn (USA)
3D
Knotted Chord
Keeping Thyme
Kendal Green
Sue Rosen
After discovering country dance (contra dance and squares, English country dance, morris and sword dance) as a young adult, her love of dance became a central part of her life. It was only later that with the encouragement of some important people in the dance world, she took up teaching and calling dances, and writing contra dances.
She reminisces that the best part of leading country dancing remains meeting new people, making great friends, and seeing the smiling faces on the dance floor, as well as travelling across the USA and Europe. She has been a caller for over 20 years, and has been organising dance events for even longer, for the Country Dance and Song Society and others including the New England Folk Festival Association and the Boston Centre. She specialises in contra, which she'll focus on at Lichfield, but she also arranges Jane Austen-style dance parties.
In 2005, she collaborated with Becky Hill, caller and choreographer from Ohio, collaborated in publishing The Rosen Hill Collection, a book of their dance compositions. A number of her dances are now firm favourites around the contra dancing world.
er in Carlisle, Massachuetts.
Brooke Friendly
Brooke Friendly is an energetic dance leader, who is also an excellent choreographer
She has called at dance and music events throughout North America and on Alan Davies holidays in Portugal, as well as teaching dance in schools, university and community settings.
Brooke brings an unusual number of strong qualities to her country dance teaching. These include: her passion for dancing; her strong sense of the dance, choreography,
movement style and phrasing (she is a beautiful dancer); her friendly personality (Friendly by name and friendly by nature); her ability to convey directions concisely and clearly, with global terminology; and her creativity and her sense of humour and whimsy.
Her workshops offer great variety. The first is Making Heys in which you can expect to do parallel, mirror, morris, dolphin, shadow, cross-over, interlocking, for three, four, or more, across, on the side, diagonal, circular, and more! She'll spend some time on how to do heys well, how to get in and out of heys in variety of choreography, and you'll have great fun with weaving and serpentine figures.
Two of her workshops focus on the dances she created with her partner Chris Sackett, from the Impropriety series volumes 1-5, and perhaps some new, unpublished dances, which you can catch on Sunday afternoon, and also on Saturday lunchtime, when the dances will be those they have written in the Scottish style. Come dance to the great tunes, old and new, that have inspired the figures, phrasing, progressions, and nuances that are the signature of this duo's work.
The Music Will Tell You What To Do: Dance to tunes with a variety of musical structures and feelings that inform different movement styles and phrasing choices. Here is your chance to really listen to the music and match your dancing to it.
Ian Jones
Ian was introduced to folk dancing by his parents at about the age of ten and has been involved ever since. He started calling whilst at Liverpool University in the sixties
was much influenced by the expertise and advice of Ethyl Anderson. 40+ years on he is not only an experienced caller but also a musician – see the entry for Kendal Green band below - and is an active initiator and organiser of regular folk dance activities in Cumbria, notably Reelfolk, the Spring Weekend at Casterton and the Summer Week at Morland plus the regular 'First Sunday Club' in Cumbria.
This weekend his workshops are 'Three for All', covering 3-couple, triple time and triple minors, 'Stapledonia: a tribute to JD', which focuses on dances written to the tunes of John Stapledon, and 'Lunchtime Maggots', which should get you in the mood for dining! His evening dance is entitled 'That Special Relationship', with both English dances from America and American dances from England.
Ian has called at all the major festivals including Eastbourne, Chippenham, Southam and Bromyard, as well as at dance weekends. In addition he has been booked in France, Holland and Lithuania. Ian is particularly keen on working with dancers to achieve that highest of goals: "making the music visible", and with Ian that takes on extra meaning as he plays and frequently calls simultaneously – a feat much to be admired!
His fans prize his dry humour, which leads to his Sunday morning session at Casterton always being oversubscribed, for example. What could be better than to combine laughter with the pleasures of the dance?
Ivan Aitken
Ivan Aitken, from Reading in Berkshire, is a caller with many years' experience. He calls at many local clubs and festival appearances include Broadstairs, Bromyard, Chippenham, Eastbourne and Sidmouth. His extensive repertoire includes 'old favourites', modern dances and everything in between. He has a very clear way of explaining even the most complicated moves and is equally at ease calling for experienced dancers or beginners.
He is also becoming well-known for his dance creations. Such delights as Still Russian Around quickly catch on and spread through the dancing community, and we hope he will soon publish his dances.
At Lichfield this year his workshops include Calculated Figures, on the dances of the celebrated Gary Roodman, Modern Squares & Contras, plus Sets in Order, which takes a look at the modern American square dance moves, some of which are highly intricate and interesting.from the American Square dance Publication sets in order which started in 1948 and ran to 1988.
Victoria Yeomans
Having been a dancer all her life, Victoria is now also a caller of international repute. She calls a varied repertoire from across the common genres from Playford to American contras. She enjoys teaching workshops and says "I am firmly of the view that we enjoy dancing more when we dance well and with the music." Dancers report that Victoria's calling is clear, concise and good humoured!
Dancers will also be familiar with her from her band, Deo Volente, where she and husband Dave Yeomans delight audiences throughout the land with their sensitive interpretations of all types of social dance music. Victoria is an accomplished performer, both as flautist and caller, and indeed also as dancer! She has grown up in the folk world, and loves to take part in all aspects.
She has called at festivals and weekends including Morland, Southam, Casterton and Chippenham, as well as Lichfield in previous years. In her other life she is a patent agent, combining the skills of scientist and lawyer to deal with this complicated field.
This year her workshops are Home Grown, from local choreographers, Hilary's Humours, a selection of Hilary Herbert's creations, and Location, Location, Location! dances featuring a ….location!
Colin Hume
Colin Hume started his folk career as a singer / guitarist, and has performed his own songs on national radio and at the Royal Albert Hall.
Over the last forty years he has built up a reputation as a caller of American Squares, Playford-type dances (English Country Dances in 17th century style), and his own "Dances with a Difference", many of which contain unusual combinations of figures to baffle and / or delight dancers. His tunes are also different enough to make most bands stop and think.
This year he makes a cameo appearance with his famous Teacup Squares workshop and he'll be back with more next year.
3D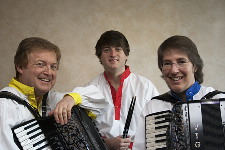 3D is Chris, Julie and Nick Dewhurst, our very own local Lichfield band! They have a busy schedule playing for English and Scottish dance events and festivals up and down the country, and they manage to divide their time pretty much equally between the genres. Their roots in folk music go back many years, but they have played as a family band since 1997.
The band is equally at home playing romping reels and sensitive slow airs, strict Scottish and purest Playford (well, as pure as you can get with two accordions, drum kit and trumpet!) They enjoy bringing the music to life with their own unique interpretations, drawing on many different musical styles, but their aim is always to fit the tune perfectly to the dance, and to provide that essential 'lift' to help keep dancers on their toes. They also have many CDs – ask them to show you – the latest is Razamatazz – pure joy!
Keeping Thyme
Keeping Thyme is one of the most versatile bands in the country. Based in the South Midlands with a fiddle, accordion
and bass guitar line-up, Julia, Shane and Tina enjoy playing elegant Playford, lively squares, zesty contras and anything else demanded of them (well, almost). Their unfailing good humour adds to the lively atmosphere they create with their music. You will find them performing regularly for Saturday dances, residential dance weekends and most of the major dance festivals - do they have any weekends free from dance?
'Kendal Green Folk Dance Band'
Ian and Margaret met through folk dancing. Once married, in 1968, and having moved away from the lively Merseyside folk scene to Appleby in Westmorland it was a
only short time before they had formed a band and were much in demand in the Eden Valley district for dances.
In 1975 'Cumbrian Gap Folk Dance Band' was formed and Ian and Margaret led that band for over 3 decades. They initiated and continue to be involved with regular folk activities in Cumbria, notably Reelfolk, the Spring Weekend at Casterton and the Summer Week at Morland.
Now, as the duo Kendal Green, they run the regular 'First Sunday Club' in Cumbria, an annual weekend at Cober Hill near Scarborough and have appeared at the Southam, Bromyard, Chippenham and Lichfield Festivals, the Bournemouth 'Light Hearted Dance Weekend' and elsewhere in the UK, France, Holland and Lithuania.
Kendal Green plays regularly for dances and workshops and the duo particularly enjoy the opportunity at weekends, festivals and workshop days to encourage dancers to respond to the music.
.
Bruce Rosen & Graham DeZarn
Bruce has been part of Boston's contra and English country dance community since the mid-70s as a dancer and musician. His rock solid piano and guitar accompaniment is sought after by many of New England's best contra dance musicians. Bruce also plays piano for English country dancing, appearing frequently in
New England venues. As part of Boston's traditional music scene, he plays guitar at Irish sessions and with the West Newton Ceili Band, and drives the rhythm at Old Time music jams on the banjo ukelele. In the early 90s, Bruce took up the button accordion, and has played for thePinewoods MorrisMen, and other morris sides. Bruce has collaborated on four recordings of New England contra dance music. He has touredthe UK several times in the past with his wife, caller Sue Rosen, performing at Chippenham Folk Festival and many UJK contra danc seriesThis year he will be joined by Graham on the fiddle.
Graham DeZarn
Graham DeZarn loves music (and dance). A 4th generation fiddler with roots in East Kentucky, he grew up in the Shenandoah Valley of Virginia. For a long time now,
he's played with the Boston-based "fiddle orchestra" Childsplay and played hard and fast old-time, bluegrass and ragtime with the Virginia string band The Hot Seats, with whom he's toured across the US and throughout the UK..
Graham takes particular interest in the conversation between musicians and dancers—an interaction he has opportunity to explore at countless ceili's, contras, square dances and house parties, as well as CCE's annual Musical Arts and Dance Week in Washington, D.C. During most days, Graham works as a carpenter and mason, and is occasionally humored as an amateur accordion repairman.
----------------------
KNOTTED CHORD
Knotted Chord are delighted to be back at Lichfield Festival for their 7th appearance after a gap of some years.
They are a highly versatile band, originally formed at Nottingham University in 1985, and now including members of the next generation. All dancers themselves, they are at home with a wide variety of social dance music, and this year at Lichfield are playing for Playford style.
Philip Rowe is the remaining founder member, and leads the band on accordion (or keyboard for contra) – and occasionally fiddle. He also plays classical violin and cello with the Harrogate Symphony Orchestra and Harrogate Philharmonic.
For Lichfield this year, the rest of the line-up is a trio of fiddlers: Fran Bulpit, and Joyce Rowe, who have played in the band since shortly after it began, plus Benjamin Rowe, eldest son of Philip and Joyce, a published composer and founder member of Contrasaurus - a contra band formed at the University of Warwick. (Other son Joshua is up to his neck in A levels and sadly can't come this time).
Some of the band's material is composed and arranged by Philip and Benjamin.
If you have a musical instrument then why not join them for their music workshop, where you can play some delightful dance tunes with multi-part harmony. The session will be suitable for all instruments, but the ability to read music is essential.
Festival Band – Tea Dance
Maggie Kaye and Rod Stradling will lead our merry band of musicians to play for the Tea Dance on Saturday, with a preparatory workshop in advance.
Most dancers will know Rod from his leadership of that wonderful dance band, Stradivarious. He started in folk at an early age by joining a morris team, and followed that up with rapper, sword and Scottish dancing before starting English Country dancing and playing the accordion. Returning to England from a spell in the States, he settled in Lichfield (fortunately for us), and is much in demand for music workshops as well as playing for dance events.
Maggie Kaye plays the violin in the Cat's Whiskers Folk Dance Band, and has been leading the music workshops at Lichfield for many years. In addition she is a keen dancer, plays the flute, recorder and piano, and she has a special interest in International Folk music, leading a dance group in the Midlands area.
Festival Band – Come All Ye
Continuing the tradition of many years, there is an opportunity for those who can read music to join the Festival band on Sunday afternoon to help bring this year's Festival to its climax. Music will be provided, and a preparatory workshop will be held on Sunday morning for those who intend to join in the afternoon. If you are unable to come to that session, but would like to join the afternoon, please contact Julia and Shane as the Come All Ye Festival Band leaders this year.
Frances Richardson will be the host for the Come All Ye. Dance Director for the Lichfield Folk Festival since 2001, Frances also calls widely at other Festivals, Saturday nights and dance weekends.
Costume Stall in Sports Hall
Mistress Val Shaw, who is retiring from her dress making activities this year, will have a stall in the Sports Hall on Saturday. On display will
be ready made period costumes, fabric, lace, patterns and accessories. This will be one last chance for dancers to take advantage of her considerable knowledge of period costume making. Her advice on costumes is highly recommended, based as it is on extensive research into fashions during the various Playford dance period (1750 to 1810).