GUEST ARTISTS 2020
Callers
Seth Tepfer (USA)
Louise Siddons (USA)
Ian Jones
David & Kathryn Wright
Ivan Aitken
John Sweeney
Christine Dodd
BANDS
Paul Hutchinson, Fiona Barrow & Karen Wimhurst
Vic Smith, Alan Brunier & Ben Rowe
Keeping Thyme
Portland Drive
Kendal Green
3D
Seth Tepfer
Seth Tepfer is "Atlanta's Dance Magician," calling dances for adults and children like you've never seen before. Known for his infectious
energy, his short walk-thru's, and his 'hash-contras', Seth's warm enthusiasm is contagious, and gets everyone moving, smiling, and having a great time. Whether squares, contras, or other folk dances, you can be certain that all involved - novices and experienced dancers alike - will amble away happy and eager to dance more!
Seth has been calling since 1997. In that time he has called over 500 gigs and delighted dancers from 5 to 95 across the country and in Canada, the Caribbean, and Costa Rica.
Louise Siddons
Louise is a contra and English country dance caller based in Stillwater, Oklahoma (USA). She began calling English in 2008 and has been
calling contras since 2010. She calls dances regularly throughout Oklahoma and across the United States, and is also often in the UK. As a caller and dance teacher, she strives to create a fun and welcoming atmosphere with her low-key and light-hearted stage presence. Believing that one of the greatest strengths of traditional dance is its long history of adaptation, she primarily uses positional calling, favoring descriptive terminology over jargon and respecting contemporary sensibilities regarding language choice. She calls a mixture of modern and historic dances in a variety of formations, and enjoys helping dancers discover the musicality of choreography, from the familiar to the unexpected.
Ian Jones
Ian was introduced to folk dancing by his parents at about the age of ten and has been involved ever since. He started calling whilst at
Liverpool University in the sixties and, with Margaret whom he met through folk dancing, was much influenced by the expertise and advice of Ethyl Anderson. 40+ years on he is not only an experienced caller but also a musician - he led Cumbrian Gap for over 30 years - and an active initiator and organiser of regular folk dance activities in Cumbria, notably Reelfolk, the Spring Weekend at Casterton and the Summer Week at Morland. Margaret has also played in the band since the beginning and as the duo Kendal Green they run the regular 'First Sunday Club' in Cumbria and have appeared at the Southam Festival, the Bournemouth 'Light Hearted Dance Weekend' and elsewhere in the UK, France, Holland and Lithuania.
After a day of dance in Warwickshire led by Ian a correspondent to the Milverton Folk Dance Group's newsletter wrote: Ian's "calling was achieved with a sureness of touch, always aware and with a gentle humour which never belittled the efforts or misfortunes of the dancers ------ the afternoon session was, for me, just about as good as a workshop can get".
Ian has called at all the major festivals including Eastbourne, Lichfield, Chippenham, Southam and Bromyard. His opening dance with Belshazzar's Feast at the 2001 Sidmouth Festival was rated one of the highlights of the week and certainly one of the funniest. Ian is particularly keen on working with dancers to achieve that highest of goals: "making the music visible".
David & Kathryn Wright
Kathryn & David - "The Wrights of Lichfield" in the title of one of Gary Roodman's dances - have been calling as a duo for over 30 years and
run a popular series of dance workshops in Lichfield. They have previously called at Casterton, Chippenham, EIFF, Lichfield, Morland, Sidmouth, Southam and Whitby and weekend AADS courses in Belgium.
They have published some their own researched and original dances in "Wrights' Humours" and "The Vesey Collection" and their dance "Freeford Gardens" seems to crop up in programmes all over the world. Their tastes in social dance are wide, from Playford to New England squares and contras, old and new, simple and complex. They enjoy the challenge of making a difficult dance accessible and also like to encourage the integration of good dance technique with dancers' enjoyment of the dance figures.
Ivan Aitken
Ivan Aitken, from Reading in Berkshire, is a caller with many years' experience. He calls at many local clubs and festival appearances
include Broadstairs, Bromyard, Chippenham, Eastbourne and Sidmouth. His extensive repertoire includes 'old favourites', modern dances and everything in between. He has a very clear way of explaining even the most complicated moves and is equally at ease calling for experienced dancers or beginners.
He is also becoming well-known for his dance creations. Such delights as Still Russian Around quickly catch on and spread through the dancing community, and we hope he will soon publish his dances.
At Lichfield this year his workshops include Calculated Figures, on the dances of the celebrated Gary Roodman, Modern Squares & Contras, plus Sets in Order, which takes a look at the modern American square dance moves, some of which are highly intricate and interesting.
John Sweeney

​
John Sweeney runs two dances a week in Ashford and Maidstone under the name Contrafusion and has danced, taught, called, performed, competed and judged all over the world. John has been dancing since 1965 and teaching various forms of dance for over 45 years. John visits folk festivals and clubs as often as he can to dance and to discover new ideas, including their annual visits to America where he picks up all the latest American styling and technique points. John is a qualified dance teacher and this shows in his calling where he unobtrusively includes technique hints and tips, and teaches styling to add more fun to the dancing. The hints and tips on technique and style cover many areas: • How to
make your dancing look better • How to make your dancing feel better, for yourself, your partner and the other dancers • How to make the dances easier to execute. John constantly gets tremendous feedback from the dancers, with lots of comments about how much the dancers appreciate the technique and style information. For many years now John has focussed on social folk dancing, calling and teaching: American Contra Dance, American Square Dance, Appalachian Big Set & Running Set, Playford/Country/Folk Dance, American ECD, English Ceilidh/Barn Dance, Contra/Freeform Waltz Polka. He has called at major festivals including Chippenham Folk Festival, Eastbourne, International Folkdance Festival Sidmouth, Folk Week Tenterden, and many others.
Christine Dodd
Christine and her husband Stephen were latecomers to Folk dancing. They started in 2007 when a former caller from Lichfield Folk dance club, Michael Platt, started a beginners' class at their church. They went along just to try it out and were hooked straight away. Michael then introduced Christine and Stephen to local clubs and they soon found themselves dancing three times a week. They joined the committee at Walsall club and were asked to try calling a couple of dances. Christine tried calling and found she enjoyed it, so went from there to calling regularly at Walsall, Lichfield and other clubs. She was fortunate to have Geof Owen as her mentor and received a lot of help from many other callers including Colin Hume.
Paul Hutchinson, Fiona Barrow & Karen Wimhurst
Fiona Barrow is a Bristol based professional violinist who trained classically. ... She has played for folk dancing for many years, with the duo Bristol players, and with Paul Hutchinson, appearing at Sidmouth, Broadstairs, Chippenham folk ...
Paul Hutchinson has had a long musical career cooperating with other musicians to form such bands as Belshazzar's Feast which has a busy performing schedule and twice yearly tours. Among their many highlights was a nomination for Best Duo at the BBC Folk Awards in 2010.
In addition to performing and teaching, Paul is also active in community work and various local projects including a 17th century music group.
Re the trio. We are members of the Playford Liberation Front and have been playing together sporadically for five years, appearing at Halsway and in Belgium. Our mission statement is to provide danceable music whilst creating at times, surprising textures and colours.
Vic Smith, Alan Brunier & Ben Rowe
make dance music which is a delight for both the ears and the feet. This trio specialise in playing for American contras and squares, and enjoy playing driving music which is well matched to dances, whether it be in English Country dance style or American genre. All
three are already well known in the dance world, Benjamin from Knotted Chord, Alan from The Night Before and Moonlighting, and Vic from Double Dichotomy and Melodic Evil. Other combinations they play in include the fantastic contra band Contrasaurus (Alan and Benjamin) and the inimitable Bearded Dragons (Vic and Benjamin). [Editor's note] I have heard them play for Playford style as well as American and I can assure you they are just fantastic!"
Keeping Thyme
Keeping Thyme is one of the most versatile bands in the country. Based in the South Midlands with a fiddle, accordion, base guitar line-up,
Julia, Shane and Tina enjoy playing elegant Playford, lively squares, zesty contras and anything else demanded of them (well, almost). Their unfailing good humour adds to the lively atmosphere they create with their music. You will find them performing regularly for Saturday dances, residential dance weekends and most of the major dance festivals - do they have any weekends free from dance?
Portland Drive
We are a folk dance band specialising in playing high energy and exciting dance music for contra dancing, although we also love playing the
beautiful tunes from the English tradition. Our fiddler is Brian Stone who you can also hear on jazz guitar, Kathryn Dunphy plays flute, sax and clarinet, and Elaine Meechan is the pianist. We hope you will enjoy dancing to our music. Do come and say hello when you see us around the country at club dances or festivals!
Kendal Green
Ian Jones is famously known for being both a superb caller and an excellent band-leader (frequently at the same time!) All are envious of
this multi-tasking ability.
Ian and Margaret Jones, aka 'Kendal Green Folk Dance Band' met through folk dancing. Once married, in 1968, and having moved away from the lively Merseyside folk scene to Appleby in Westmorland it was a very short time before they had formed a band and were much in demand in the Eden Valley district for dances.
In 1975 'Cumbrian Gap Folk Dance Band' was formed and Ian and Margaret led that band for over 30 years. They initiated and continue to be involved with regular folk activities in Cumbria, notably Reelfolk, the Spring Weekend at Casterton and the Summer Week at Morland.
Now, as the duo Kendal Green, they run the regular 'First Sunday Club' in Cumbria, an annual weekend at Cober Hill near Scarborough and have appeared at the Southam, Bromyard, Chippenham and Lichfield Festivals, the Bournemouth 'Light Hearted Dance Weekend' and elsewhere in the UK, France, Holland and Lithuania.
Kendal Green plays regularly for dances and workshops and particularly enjoys the opportunity at weekends, festivals and workshop days, to encourage dancers to respond to the music so that the dances become 'visible music'.
Ian and Margaret play a variety of instruments including accordion, piano, concertinas, recorders and drum. Ian has even been heard – from time to time – playing his self-built Hurdy-Gurdy!
Although the band particularly likes to play dances in the 'Playford' style they also enjoy playing for American Squares and Contras and traditional English dances. In that connection Ian has, recently, edited the music for the new edition of the 'Community Dance Manual'.
3D
3D is Chris, Julie and Nick Dewhurst, our very own local Lichfield band! They have a busy schedule playing for English and Scottish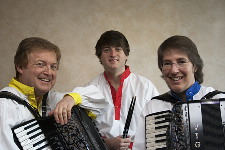 dance events and festivals up and down the country, and they manage to divide their time pretty much equally between the genres. Their roots in folk music go back many years, but they have played as a family band since 1997.
The band is equally at home playing romping reels and sensitive slow airs, strict Scottish and purest Playford (well, as pure as you can get with two accordions, drum kit and trumpet!) They enjoy bringing the music to life with their own unique interpretations, drawing on many different musical styles, but their aim is always to fit the tune perfectly to the dance, and to provide that essential 'lift' to help keep dancers on their toes. They also have many CDs – ask them to show you – the latest is Razamatazz – pure joy!
An added bonus is that 3D will be leading the band for the Come All Ye on Sunday afternoon, and yes, contrary to previous information, Nick will be part of the band all weekend - fantastic!
Festival Band
Our merry band of musicians will play for the Tea Dance on Saturday, with a preparatory workshop in advance.
Continuing the tradition of many years, there is also an opportunity for those who can read music to join the Festival band on Sunday afternoon to help bring this year's Festival to its climax. Music will be provided, and a preparatory workshop will be held on Sunday morning for those who intend to join in the afternoon. If you are unable to come to that session, but would like to join the afternoon, please contact the Come All Ye Festival Band leaders this year.