Welcome to Lichfield Folk Festival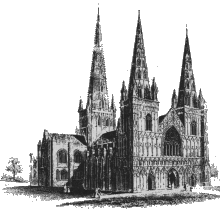 A WEEKEND OF FOLK DANCING

Friday 16th - Sunday 18th June 2023
Folk Dancing at its best in this lovely Cathedral City.
"The Festival You Should Not Miss"
Folk dancing, primarily in the English and American tradition, which extends
from Playford in 1651 through to the time of Jane Austen and up to the present day.
With national and international callers and bands, three venues on one site, and an exciting choice of activities
featuring dances, dance workshops and music workshops.


See the Festival Taster for clips and greetings from some of our artists.
--------------
Festival 2022
We enjoyed a great weekend of dancing and music!
Thank you to all artists, participants and everyone who helped to make the weekend such a success.
Photos will be uploaded soon.
We are now looking forward to next year's Festival.
--------------
Lost and Found
Found: a hooded top that was left in Bader Hall
Lost: an insulated coffee mug
If you are the owner of the hoodie, or if you have found the coffee mug,
please email lichfieldfolkdancing@gmail.com
--------------
Festival 2023
Friday 16th - Sunday 18th June 2023
Callers and Bands booked so far...Victoria Yeomans, Lynne Render, Charlotte Rich-Griffin, Frances Oates,
Contrasaurus, Albireo, 3D, Dave Yeomans and Fran Bulpit, Keeping Thyme.
Watch this space for further details.
The Festival is held at King Edward School and Sports Centre,
King's Hill Road, Lichfield WS14 9DE
Everything takes place on site. Three large halls for dancing,
hot and cold food available all day.
Check the Getting Here page for our location and a map.
Free parking!
Caravans and campers welcome on site.
---
Future Festival Dates
Friday 21th - Sunday 23th June 2024
The date definition is: LFF occurs on the weekend beginning with the third Friday in June.
For updates on Festival click on the logo below to access our Facebook page