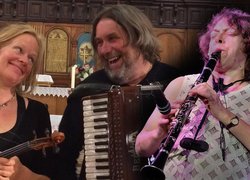 Paul Hutchinson, Fiona Barrow & Karen Wimhurst
Fiona Barrow is a Bristol based professional violinist who trained classically. She has played for folk dancing for many years, first with the duo Bristol Players, and more recently with Paul Hutchinson, appearing at Sidmouth, Broadstairs, Chippenham and other such illustrious dance events.
Paul Hutchinson has had a long musical career cooperating with other musicians to form notable bands, perhaps the best-known in the folk world being Belshazzar's Feast, which has a busy performing schedule and twice-yearly tours. Among their many highlights was a nomination for Best Duo at the BBC Folk Awards in 2010. Look out for their CDs! In addition to performing and teaching, Paul is also active in community work and various local projects including a 17th century music group.
Karen Wimhurst is an accomplished clarinet player, and has worked with a number of folk and jazz ensembles. In the 1990s she founded the Cauld Blast Orchestra, recipient of two Scottish Jazz Awards. She is also a widely commissioned composer working across musical genres, bridging jazz, folk and contemporary classical ensembles. She has been commissioned by BBC Radio 4, amongst many others, and is currently working on Apple Journeys in association with Cecil Sharp House and the National Trust, celebrating the 21st anniversary of Apple Day. She has also run programmes for Welsh National Opera, Opera North, Scottish Chamber Orchestra and directed a team for the English National Opera. Karen's work has been performed across the UK, Europe, America and Mexico as well as featured on radio and television.
All three in the trio are members of the Playford Liberation Front and have been playing together sporadically for five years, appearing at Halsway and in Belgium. Their mission is to provide danceable music whilst creating at times, surprising textures and colours which really lift the atmosphere.